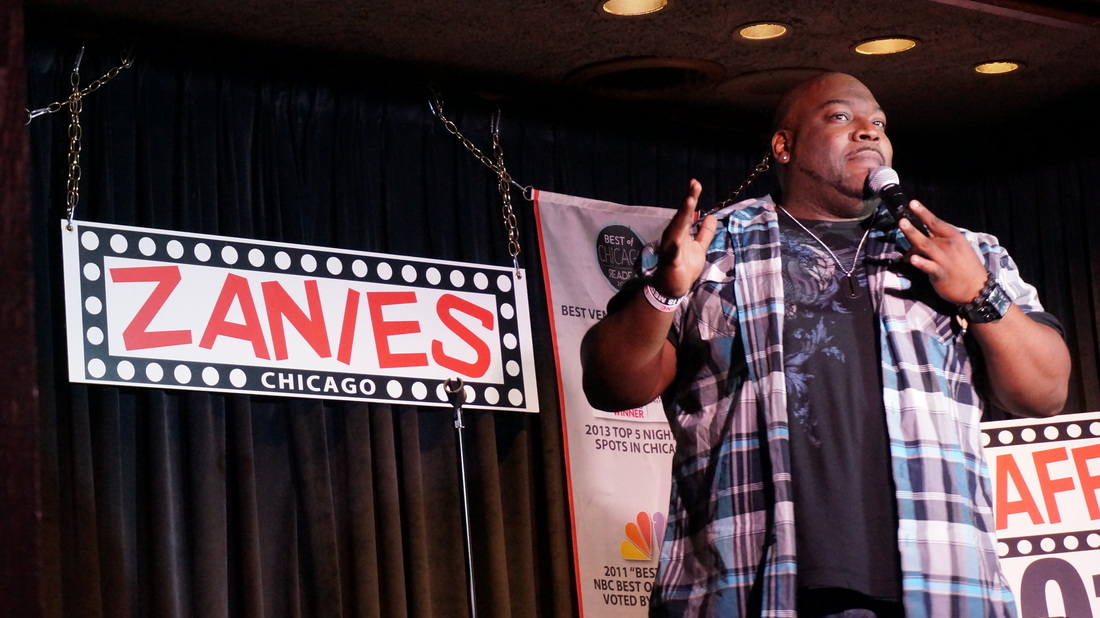 A professional wrestler turned stand -up comedian, Jay Washington's antics during wrestling promo's and in-ring interviews, made it almost natural for him to make the transition from the squared circle to the stage.

Jay first hit the stage at Chicago's famous Checkerboard Lounge during their "Too Much Talent Tuesday's" showcase. He was picked to compete for Comedy Central's "UP NEXT" Talent Search.

Jay's performed in various comedy festivals and has worked in a various comedy clubs and venues around the country. With quick wit, high energy, lovable personality, and size it makes him not only impressionable but also very memorable.

Jay Washington made a name for himself as he has performed at, created and host monthly events, including "Laughing Insanity", at the world famous Laugh Factory in Chicago. Jay has traveled the country headlining and featuring on various stages at comedy clubs and venues.

Jay has opened the stage and performed with the likes of Tony Rock, Tommy Davidson, Lil' Rel, Robert Kelly, Adam Ferrara, Dante Nero, Loni Love, just to name a few. He has also been featured on various podcasts, various commercials, heard on Sirius XM, Seen on YouTube Red, Screen Junkies, the NERDIST network, former host of the radio show "Educated Insanity", current co-host of the Trusty Sidekick Podcast. He can also be seen in the Spike Lee Joint "Chi-raq" and the upcoming films "Imperfections" and "Landline" with Tom Arnold and Jim O'heir.



Clubs
(h)- Host (F)-Feature (HD)-Headliner

Riddles Comedy Club- Alsip, IL- H,F,HD

Jukebox Comedy Club- Peoria, IL -F

Improv Comedy Club- Schaumburg, IL- H,F

The Drop Comedy Club- South Bend,IN, HD

The Laughing Chameleon- Glenview,IL-HD
Laugh Factory-Chicago,IL H,F

Joke Factory Comedy Club- Evansville, IN- HD

UP Comedy Club- Chicago,IL H

Snickerz Comedy Bar-Fort Wayne,IN -F

The Comedy Shrine, Aurora,IL -F,HD

Crackerz Comedy Club-Indianapolis, IN -F
The Loony Bin Comedy Club- Tulsa,OK Little Rock, AR-H
Jokes & Notes Comedy Club- Chicago,IL- HD
Wisecrackers Comedy Club- Merrillville, IN-F

HaHa Comedy Club-North Hollywood,CA-F
Ice House Comedy Club- Pasadena, CA-F
Festivals & Competitions
Comedy Central "Up Next" Talent Search

Miller Lite Comedy Competition-Semi Finalist
Laugh Track Comedy Festival (2nd Place)-Denver,CO
Bay Area Black Comedy Competition-Oakland,CA
World Series of Comedy-St Charles,IL

Seattle International Cemedy Competition
Trial By Laughter (Comcast)-Indianapolis,IN
North Carolina Comedy Arts Festival-Chapel Hill NC
Television/Media Appearances
TD Bank Commercial (Hold Music/Maintenance Guy)
Seven On Ridge -performer
Mancow Morning Show
H&R Block Training Video
WCIU You & Me This Morning
NERDIST
YouTubeRed
Theaters

Lakeshore Theater- Chicago,IL
Chicago Theater for Performing Arts- Chicago,IL
Stage 773- Chicago,IL
Olympic Theater- Cicero, IL
Oriental Theater- Denver, CO
Globe Theater- Kalamazoo,MI
SCHOOLS
North Central College- Naperville,IL
College of Dupage- Glen Ellyn,IL
Illinois Institute of Technology (IIT) Alpha Sigma Phi Fraternity Chicago,IL

Morton College -Cicero,IL